Flaum Eye Institute
Your generous support enables the Flaum Eye Institute to continue to develop medical breakthroughs, create miracles and be truly transformational in its work.
The Flaum Eye Institute provides a center of excellence that brings together basic scientists and clinical faculty from across the university campus, along with corporate partners, to conduct translational research focused on high priority issues identified by the National Eye Institute.
The generosity and service of David and Ilene Flaum, in whose honor the program has been renamed, has enhanced the institute's mission to develop and apply advanced technologies for the preservation, enhancement and restoration of vision through a partnership of academic medicine, private industry, and the community.
The facility was dedicated at 210 Crittenden Boulevard as the Adeline P. Lutz Pavilion in honor of the generous gift from Walter and Adeline Lutz. These two philanthropic milestones mark the completion of the highly successful first phase of our growth and signal the beginning of the second phase designed to reach our long term goal of a top 10 national ranking in NIH funding and in public recognition.
Contact Jennifer Richardson to learn more: (585) 273-5472 jennifer.richardson@rochester.edu
Medicine of the Highest Order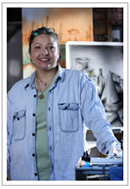 New procedure saves Michelle from a devasting stroke .
Read Michelle's story »