Kessler Burn & Trauma Center
The Kessler Burn and Trauma Center continues to save many lives and ease the suffering of many more in the 17 counties it serves. Thanks to our many supporters, the center is able to continue to expand clinical research, become a leading presence in regional and national professional societies, and improve patient care and surgical training.
The Kessler Burn and Trauma Center treats more than 3,000 people each year with severe and life-threatening injuries and features the area's only dedicated burn service.
The generosity of Laurence Kessler and Dennis Kessler, in whose honor the center has been named, has allowed the center to become the area's best facility for treating patients with traumatic injuries or burns.Their ongoing commitment ensures that the program meets regional needs and sets the pace nationally among centers that treat burns and other traumatic injuries.
Contact Peggy Martin to learn more: (585) 273-5946 peggy.martin@rochester.edu
Medicine of the Highest Order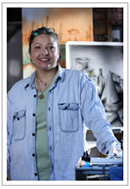 New procedure saves Michelle from a devasting stroke .
Read Michelle's story »