Department of Medicine
Your generosity helps to make the Department of Medicine both a national and world-leader in patient care, research and education, making it a place that moves all of medicine forward.
The Department of Medicine is the largest department within the University of Rochester School of Medicine and Dentistry. It is made up of nearly 300 faculty members who are involved in patient care, research and education. The department is dedicated to providing excellence in patient care, advancing basic, translational and clinical research, and providing preeminent leadership in medical education.
The Department of Medicine strives to initiate new findings in basic science and find ways to speed the process of their translation to clinical care. The department provides educational programs that are among the most outstanding in the nation, training the next generation of academic leaders, physicians, scientists, and doctors for our region and serving as a model for the world's top educational programs to follow.
Contact Jodi Revill to learn more: (585)276-4978,
jrevill@ur.rochester.edu
Medicine of the Highest Order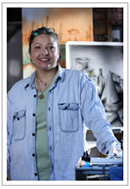 New procedure saves Michelle from a devasting stroke .
Read Michelle's story »