School of Nursing
The School of Nursing is fortunate to have the support of tremendously active and generous individuals like you who help to expand and elevate the School's legacy of excellence in nursing, positively impacting the needs of our community and our integrated health care systems.
The School of Nursing is determined to do its part to contribute to the nursing profession as a whole—to influence how nursing is practiced and perceived, to address our national nursing and nursing faculty shortages, and to produce the health care leaders of tomorrow.
Entrepreneurial concepts have been woven throughout the School's curriculum for several years. Its first-of-its-kind Center for Nursing Entrepreneurship teaches business strategy to nurses, helping them to learn how to bring services to a wider population outside traditional health care settings while providing new opportunities for themselves.
Contact Dianne Moll to learn more: (585) 273-5075, dianne.moll@rochester.edu
Medicine of the Highest Order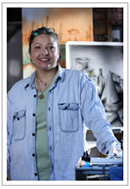 New procedure saves Michelle from a devasting stroke .
Read Michelle's story »