Department of Urology
Your generosity enables the Department of Urology to continue to provide its patients with the best possible care for urologic diseases and conditions in addition to offering access to cutting edge treatments not yet available anywhere else in the region.
The Department of Urology provides the area's most advanced and comprehensive urologic care for men, women and children. As the region's leader in urological care, the department boasts the area's only center using the latest da Vinci Surgical System, with high definition 3D imaging to enhance the surgeon's vision during procedures. Additionally, doctors are fellowship trained in pediatric urology and are nationally or internationally known in their field.
In addition to working with patients, urologists are also involved in research, keeping them at the leading edge of their field so they can give patients the most advanced, most effective care.

Contact Niles Eggleston to learn more: (585) 276-6050 niles.eggleston@rochester.edu
Medicine of the Highest Order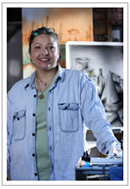 New procedure saves Michelle from a devasting stroke .
Read Michelle's story »