Visiting Nurse Service
Visting Nurse Service has an impact on the lives of thousands of our neighbors right here in Monroe County each day and your support is essential to their care. Private donations allow staff to continue to serve some of the area's most needy citizens with integrity, compassion and respect. Community support enables patients to access essential programs including Hospice, Meals On Wheels, and Telemedicine.
Visiting Nurse Service (VNS) is committed to offering the most complete home health care services from newborns to seniors, whether acutely ill, temporarily disabled or requiring long-term care. Our goal is to keep people healthy and independent in their homes.
With more than 600,000 visits to 11,000 patients a year, VNS staff have the experience to handle all types of medical conditions. As a full service, not-for-profit, Medicare-certified home health agency, VNS provides nursing care, physical, occupational, and speech therapists, home health assistants, hospice care, medical social work and infusion therapy.
VNS's services also include an education and counseling component for patients and family, allowing them access to all the community resources needed to teach them how to cope with illness, get well and stay healthy.
Contact Rachel Wicks to learn more: (585) 273-3182, rachel.wicks@rochester.edu
Medicine of the Highest Order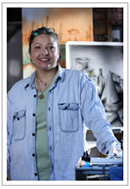 New procedure saves Michelle from a devasting stroke .
Read Michelle's story »